During daily work with Visual Studio 2012 and Windows Phone SDK people may do not know that beside Windows Phone Emulator there is something more and it is called Simulation Dashboard. It is available in Tools -> Simulation Dashboard menu or using Quick Launch (CTRL + Q) after typing just 3 first letters of its name. BTW – I really encourage you to use Quick Launch as it gives you possibility to use over 4k features of Visual Studio from just one place.
Let's get back to the point and see how this panel looks like.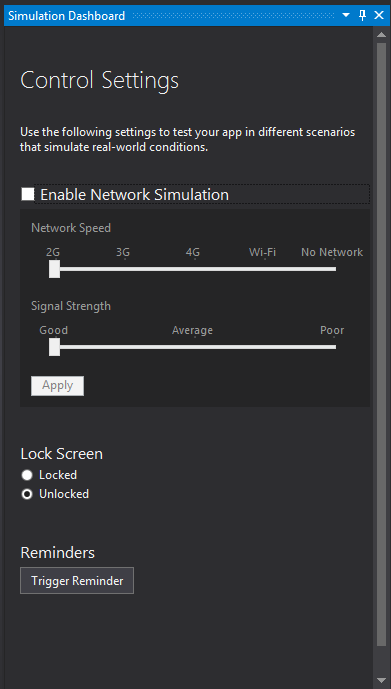 Currently it provides you 3 features (Network Simulation, Screen Lock and Reminders), but in next releases it is strongly possible to be extended. If you have some ideas what should be there too, just post a comment – I will collect this data and send back to tools team as suggestion.
Network simulation allows you to check how app works under edge conditions, when network is poor. It allows you to see what delays user will see using your app during data upload / download etc. It can give you chance to add for example performance progress bar which indicates user that there is some background operation.
Another important thing is to check your app working under locked screen. We all do remember that you can say that your app will be still running so this is great possibility to check this without real device.
Reminders – this is feature which can switch user to different context out of your app and then get it back. It's good to remember to check such scenario too and with Simulation Dashboard it can't be easier to do.