Some time ago I was asked to test and review set of controls prepared by Bee Mobile and dedicated for Windows Phone
This Set is called Metropolis. After some time of tests I decided to share my opinion about this product and help you to take decision "to buy or not to buy" or "to use or not to use" in your apps
First of all what you can see after instalation is well prepared demo and documentation which shows you step by step how to use each controll and how you can add them into your Windows Phone project.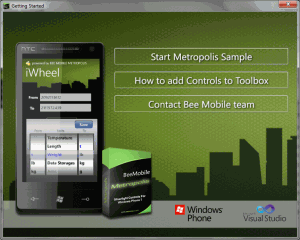 Below I would like to present some of most interesting controls from this set (IMO
)
Know from many different implementations and many platforms "book". This specyfic one can be described as "smooth and flexible". It allows you to easy add any item into pages. Those pages thanks to good implementation looks very natural… It's easy to find at least couple scenarios and places where to use this book – ex. oryginally styled help for application, RSS browser (or any other data browser) with intuitive way of browsing.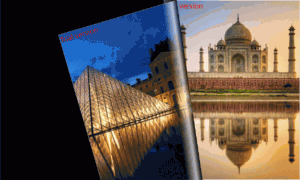 All those controlls are based on the same mechanism. Probably they are very familiar to all Objective-C and "i" plafroms fans
They are interesting alternative for all *pickers from Silverlight Toolkit.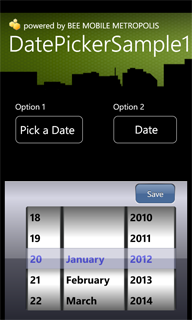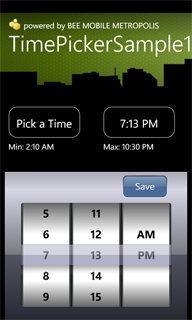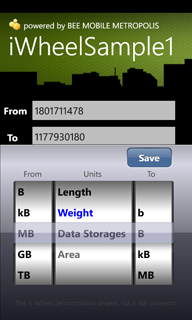 It is good to remember that those three controls should be used in proper context and properly styled apps because they are not fully based on Metro UI (yet :)). Of course you can change their styles, but maybe soon you won't have to do this… Why? I've suggested this to Bee Mobile and I've got response that they are thinking about couple predefined styles for all controls like you can see using SegmentedControl.
This control is a combination of radio button and check box list, but it is much easier to use if you want to create very custom styled part of app. This is great alternative for toggle switch and it allows to change our thinking about data presentation and manipulation. Currently I'm thinking about this control as part of couple of my apps to make them easier to use for users – it will save me a lot of time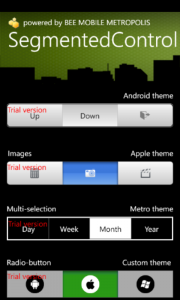 As I mentioned this control has couple predefined styles which allows to change it with single click and fit to different platforms design style…

Other controls
Beside controls described above we can use VistaButton, Waiting Bar and RegionControl. Waiting Bar is very similar to ajax loader known from web apps. Thanks to this some part of users can understand it more clearly than progress bar (which sometimes is not very intuitive… :().
Region Control allows to present data in very different way that we've got used to – demo suggests to use it in some helth apps or car rental etc. I have couple other scenarios like using it as interactive worl map in some strategy or semi strategy games
Price
License for single developer costs little bit below 200$ – this seems to be not too much according for perspectives of income from uncommon apps and Metropolis seams to give very interesting part of such solutions.
Summary
Metropolis is very interesting and brings couple new (in case of Metro UI) ideas for data presentation and manipulation. Thanks to dynamic developement and improvement in future we will probably see updates and new features which will give us a lot of new possibilities